Recovery Tow Straps Loom And Equipment
ky针织式恢复拖带
Tow straps are made from polyester that has less stretch compared to recovery straps. They are used in a similar way but their functions are different. Tow straps are made for towing freely-moving transport vehicles behind another vehicle.Tow straps possess end-metal hooks and are not meant to be used for recovering stuck vehicles due to them being less stretchy. Tow straps also break easily when subjected to recovery-related pressure.

恢复带通常由尼龙制成,是为了拉伸而制成的。拉伸动作对于恢复卡住的车辆至关重要。恢复皮带用于恢复已破坏或需要拖出诸如水,雪,沙子,泥或其他道路碎片的车辆在粘性的情况下,每端都有循环。

恢复带和拖带之间存在差异,每种类型都有其好处。

KY Recovery Tow带织机可以用客户的样本产生,包括宽度,厚度,材料,功能和输出。使您可以轻松地通过自动控制大规模生产。同时,保证稳定性和质量。
For more detailed product information and quotation of "Curtain Heading Loom", please leave an inquiry as below online form, we will get back to you soon.

For more information on "Recovery tow straps Loom", including output, maintenance services or factory expansion solution suggestions, please provide detailed information on the recovery tow straps photo, tape width, thickness of online form to supply the best service for you.

---
Gallery

Video





Related Products

NDM

---

中型和重窄的织物针头织机输出范围为2个胶带宽度,从最小80mm到最大165mm,纬线密度可从2.46厘米到11.67厘米,带有CAM系统,或36件拾取管道插入到编织中。中和狭窄的织物针织机增强了机器结构,通过在高速性能下提高机器的稳定性来最大程度地减少振动。中型和狭窄的织物针织式装置正润滑系统,以增强润滑系统,在顶部添加的安全盖以保护用户的安全并符合CE标准。

---

ENH

---

ENH Heavy Narrow Fabric Needle Loom is developed for industrial textile. Suitable for producing slings thickness max of 8mm, and width ranges with 85mm to 370mm, output ranges with 1or 2 number of tapes. The weft density is available from 2.46cm to 11.67cm in the CAM system to weave.Heavy narrow fabric needle loom reinforce the structure, minimize the vibration by increased the stability of machine under high speed performance. Heavy narrow fabric needle loom use automatic yarn feeding and weft feeding device or belt-type weft feeding device during weaving, so that the tension during feeding can be balanced and the yarn is not easy to break.The weaving system 1 to 3 can be used for weaving, and can monitor broken weft, warp, broken bottom thread, reeling, etc. The machine parts are made of real materials, precision machining, durable for many years, and low depreciation rate.

---

---
---
热产品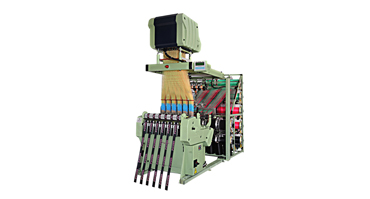 狭窄的织物jacquard织机系列产品
Computer jacquard machine for the production of various types of flexible...
Read More